One System. One Solution.
The way Radio Networks and Media Agencies interface and work together has been changed forever. The RadioMATRIX cloud-based platform, enables your team to submit and manage broadcast, streaming and podcasting media proposals collaboratively with individual or multiple media agencies concurrently, whilst protecting client identities and commercial specifics, all within a single platform.
Your time is worth more
Proposals for broadcast, streaming and podcast activity can be sent to agencies proactively at any time. You can send a proposal to a single agency or multiple agencies at once, with each version tailored to each agency.
When responding to briefs, you'll be able to develop a custom response or reuse a proposal that you created earlier by creating a new version and moving it from one client to another. You can then customise your new version in any way you need to.
Any supporting documents whether they be PowerPoint presentation, sizzle reals or PDFs can all be attached to your proposal and will remain linked to the proposal throughout the iteration process. You can update or delete your attachments if you need to or reuse them.
RadioMATRIX eliminates hours of manual process. You'll have more time on your hands to build your customer relationships, collaboration, ideation and innovation.
Connectivity
RadioMATRIX connects to radio network sales and trafficking stacks and media agency media management platforms via API, removing the need for highly manual and error-prone double entry. Your proposal activity will be automatically synchronised with your sales platform showing up against your your pipeline.
Approved proposals are automatically pushed to your station's trafficking stack via Radio Holdings.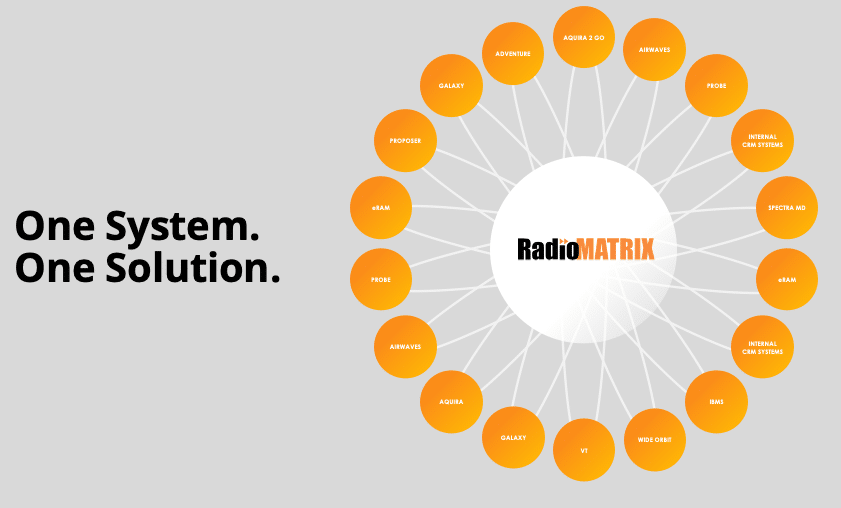 Reduce errors and make goods
Version control will help protect you from sending incorrect information and ultimately having that information accidentally approved and trafficked. It will also let you roll back to earlier versions if negotiations take you back to an earlier proposition.
In the event that a single proposal needs to be sent to multiple agencies with small variations in each version, document versioning will help you make sure the right version goes to the right agency and platform security will ensure that each opportunity remains commercial in confidence at all times.
Best practice
RadioMATRIX is underwritten by Commercial Radio Australia and is the industry's new gold standard for managing commercial radio audio planning, briefing, proposal and approvals.